SAVE on your build or home reno with the eShowbag. Packed full of savings, specials and chances to WIN! Click here to print all specials » or use the check box on each special to select your favourites and then click "Print selected special" at the top or bottom of the page.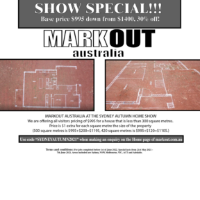 SAVE!
30% off base price for Sydney Home Show Visitors.
We are offering all visitors pricing of $995 for a house that is less than 300 square metres.
Price is $1 extra for each square metre the size of the property
Use code "SYDNEYAUTUMN2021" when making an enquiry on the Home page of markout.com.au
Mention Sydney Home Show to receive offer.
Valid to: 7-Jun-21
Conditions apply.