Steel-Line Garage Doors Australia
At Steel-Line, we are widely recognised in the industry for being the trend-setters and pioneers of garage doors. We deliver the largest range of colours and varied materials for garage doors in Australia.
If you can imagine your dream door, we can design, manufacture and install it. No matter your budget or preferences, we can help.
Our garage doors are designed to withstand the harsh environment of the Australian climate. Our doors are resistant to insect attacks, dust, rain and UV rays. They are even suitable for bushfire and cyclone regions when fitted with the appropriate accessories.
Made from the highest-quality durable materials, you will enjoy your garage door for years to come.
Prefer an electric garage door to a manually operated door? Steel-Line has a remote-control opener for every type of garage door – you and your family will love the convenience!
We can provide many accessories to suit your needs, including photo eye protection, emergency key release, digital keyless entry, and multi-functional hand transmitters.
We are makers to the core.
Every door is custom-designed and manufactured for your home. No short cuts and no cheap imported steel.
If you're ready to draw the line at average and reach for better - call us today on 1300 427 243.
Make an enquiry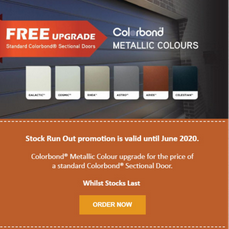 Special

- FREE upgrade

Colorbond® Metallic Colour upgrade for the price of
a standard Colorbond® Sectional Door.

Conditions
Stock Run Out promotion is valid until June 2020.Whilst Stocks Last
More information