DOCTOR DAMP PTY LTD
We are fully licensed and are the most experienced sub-floor ventilation company in Australia in designing and installing ventilation systems and other products to eliminate problem damp and mould. Along with thousands of our customers, you can have confidence that Doctor Damp will design and install the best system for your home and business.

Our consultants (who have over 50+ years combined experience) and our installation technicians are trained to isolate the root causes of problem damp and mould and deliver proven products and services to eliminate the cause and effect. We install ducted fans, vents and ventilation solutions to eliminate problem moisture and condensation responsible for most harmful mould and mildew, rising damp, structural damage, pest infestation and problem odours.

Come say hi to our friendly team at the Sydney Autumn Home Show!


Make an enquiry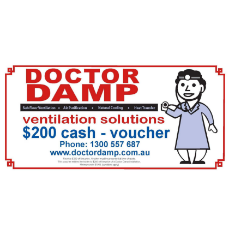 Special

- Doctor Damp - $200 cash voucher.

Doctor Damp - $200 cash voucher. This voucher entitles the holder to $200 off the price of a Doctor Damp installation.
Conditions
Voucher must be presented at the time of the quote. Minimum order is $1000. (conditions apply)
More information