Complete Home Filtration
Complete Home Filtration is an award winning, water filtration specialist that supplies, installs and maintains Australian designed and made water filtration and softening systems.

Our innovative Complete Home System utilises world leading filtration and softening technology to soften and filter water to remove even the finest dirt, sediment and chemicals. With a Complete Home Filtration system, you can be sure that all water entering the property is clean, safe and healthy for drinking, bathing, showering and cooking.

Our customers report not only great tasting water but softer skin and hair and a noticeable reduction in scale throughout the home. Installing a Complete Home system is a great way to protect your two greatest assets; your family and your home.

If you are concerned about the quality of water entering your home, come and have a chat with us about a Free Water Test and in home assessment.

Visit our stand at the Sydney Autumn Home Show from 21 - 23 May 2021!
Make an enquiry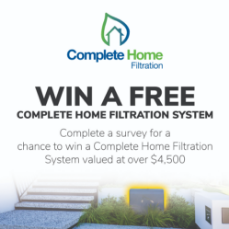 Special

- Win a FREE Complete Home Filtration System

Complete a survey for a chance to win a Complete Home Filtration System valued at over $4,500
Conditions
Must be a home owner on mains feed water supply, fully complete survey and agree to the terms and conditions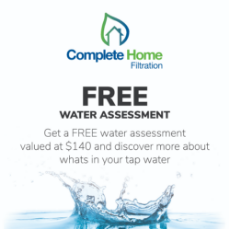 Special

- FREE Water Assesment valued at $140

FREE in home assessment and basic water test to learn more about the chlorine and other chemicals in your tap water supply.
Conditions
Must be a home owner and on mains water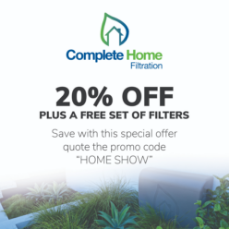 Special

- Get 20% off the RRP and FREE set of filters

Get 20% off the RRP of a Complete Home Filtration system along with a FREE set of filters
Conditions
Quote the promo code "HOME SHOW" when enquiring to receive this offer